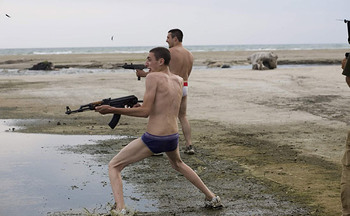 If you have any connection to Italy, be it familial, spiritual or even culinary in nature, then there's a movie you should see this fall. It's called, Gomorra and if, like me, your notions of Italy are largely romantic, then prepare to have your eyes opened and your pulse quickened. Directed by Matteo Garrone, Gomorra is the film adaptation of Gomorrah, a book by investigative reporter Roberto Saviano that I somehow missed when it was published in the U.S. last year. According to The New York Times initially sold an "astonishing 600,000 copies" in Italy—almost 2 million copies worldwide since then—and resulted in its author going into hiding with 24-hour police protection because it angered some of the people depicted within its pages.
The subject of both Saviano's book and Garrone's film is the Camorra, the Neapolitan mafia, a violent, vampiric presence that is sucking the life out of the Italian region of Campania, of which Naples is the capital, and, increasingly, exerting its corruptive influence on a global level. According to the Times, since 1979, the Camorra has killed more people than the Sicilian mafia and the Irish Republican Army, and its tentacles extend to Campania's ports, the fashion industry, drugs and industrial waste disposal, the last of which has poisoned the land and led to an increase in cancer in the region.
I haven't read Saviano's book (though I certainly plan to), but judging from the reviews, it's a powerful literary work, and the kind of sprawling story that's difficult to turn into a compelling film. But Garrone has done a masterful job. Make no mistake, Gomorra—like the book's title, a play on Camorra—is gritty, bleak and disturbing, and, unlike so many American mob movies, devoid of romance, but, boy, it gets under your skin. (In Italy, more than 2 million moviegoers have seen it, and not only did the film win Grand Prize at Cannes this year, it will represent its mother country in the foreign film category at the Oscars next year.) At the screening I attended, Martin Scorsese introduced the film, and he talked about how, without any exposition or traditional narrative, Garrone immerses the moviegoer in a strange, violent world where it's impossible to get your bearings.
The central setting of Gomorra is a drab dystopian neighborhood consisting of multi-level cookie cutter apartment complexes, shadowy stairwells and confusing concrete byways that could be found anywhere. "You don't know what country you're in; you don't know what city. You don't know what street it is. You never know that," Scorsese explained. "You're just dropped onto another planet, and you're on your own."
Like the residents of that Neapolitan neighborhood—Garrone interweaves the stories of a handful of its residents—the moviegoer is never sure who's to be trusted and who's to be feared; who's in power and who's a target. The bromides of honor and loyalty that comprise the underpinnings of so many American mafia movies are as paper-thin as the Euros that someone always seems to be counting. And violence is not only omnipresent, it's a rite of passage. One of the film's most unforgettable scenes involves a string of adolescent boys waiting their turns to don a homemade bullet-proof vest and brave a bullet to the chest. Upon reviving, one boy is told that now, he is "a man." What would the Catholic Church say about this terrifying method of confirmation?
For Scorsese, that rare American filmmaker who has depicted organized crime with gut-wrenching realism, "one of the great strengths" of Gomorra "is that there is no exit" to the world Garrone depicts on film and no end. "You sense that the only way out for the people in the film is going to be bad," he told the crowd, but that, "no matter what happens to them on that screen, you know one thing: the world you are experiencing in this picture will continue to exist." And spread. A crawl at the end of Gomorra asserts that the Camorra has invested money in the construction of the Freedom Tower on the former site of the World Trade Center in Manhattan. And after watching the film's scenes of illegal industrial waste dumping, I've got to wonder if any food products grown in that toxic earth have been imported here.
The makers of Gomorra, Scorsese said, brought "a ferocity of commitment" to the film that he called "an indictment not only of Italy, but, really, of the modern world." And seeing Gomorra, as I did, on day that the stock market had plummeted due to our nation's financial crisis—a crisis caused largely by modern financial contracts known as derivatives—it was hard to disagree.